The #1 Fishing Charter in Port Aransas
The Best Private Bay & Deep Sea Fishing Charters
If you're looking for a Port Aransas Fishing Charter, look no further than CAT Sport Fishing. We are located in Port Aransas, TX at the UTMSI Marina. We are only a short trip through the Aransas Pass into the Bay or the Gulf of Mexico.  We offer private offshore fishing charters, bay fishing charters, and guided duck hunts. 
You don't have to be an expert fisherman to enjoy our charters; our expert captains and crews will guide you to ensure that the memories you make will last a lifetime. Good fishing, fast boats, experienced guides, and affordable rates guarantee an incredible time! Ask about booking today!

All-Inclusive Guided Fishing Trips
Whether you're targeting a specific species of offshore game fish, or looking for some exciting bay fishing action, look no further than Come and Take It Sport Fishing.
Just Show Up, We'll Take Care of the Rest:
Offshore/Deep Sea Fishing Charters

Bay Fishing Charters

Guided Duck Hunts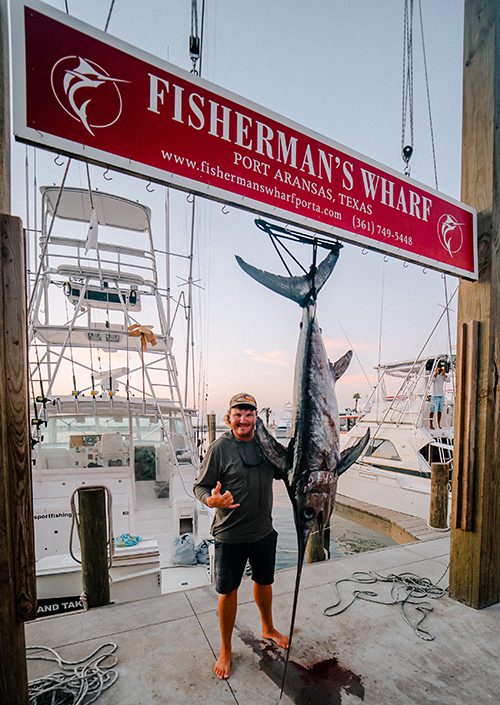 When Second Best Won't Do
Offshore or inshore, Come and Take It Sport Fishing offers the best boats, combined with experienced captains, which leads to more memorable fishing trips for you and your guests.
Why CAT Sport Fishing?
Are you ready to experience the saltwater fishing trip of a lifetime that maximizes your day? Our boats get you to the blue water fast, and our fishing guides will put you on the fish.

Luxury Charter Boat Fishing
Our sportfishing charters out of Port Aransas, TX, are exclusive and luxurious. That means your group will have the boat to themselves. That makes our fishing trips perfect for outings with family, friends, or business.
Our Luxury Gulf of Mexico fishing trips is guaranteed to create beautiful memories for everyone. Our all-inclusive services are hassle-free, ensuring you can relax, catch fish, and enjoy well-deserved time unplugged. 
Fast and Reliable Fleet of Boats
At CAT Sport Fishing, you no longer have to waste hours of your fishing charter on the boat ride alone. You'd be surprised how fast our Invincible 37' CAT can take you out to blue waters.. The catamaran runs 40 knots in four-foot seas. We give you more fishing for your money by adding two hours on average that you'd otherwise use traveling to location

Experienced Captain & Crew To Put You On The Fish
We don't do things half-heartedly. We prioritize quality over quantity by ensuring that every guest enjoys their fishing excursion. Our trained captains and crew are at your disposal to guide you every step of the way. Our Port Aransas fishing charters are ready to take you on a world-class fishing trip – whether inshore, offshore, or in the bay. 
Top of The Line Boats & Tackle
Your Fishing Charter will be on a state-of-the-art boat. It's fast and cuts through the saltwater like a knife. We also provide high-tech electronics and fishing tackle. The result is an experience that will have you coming back season after season.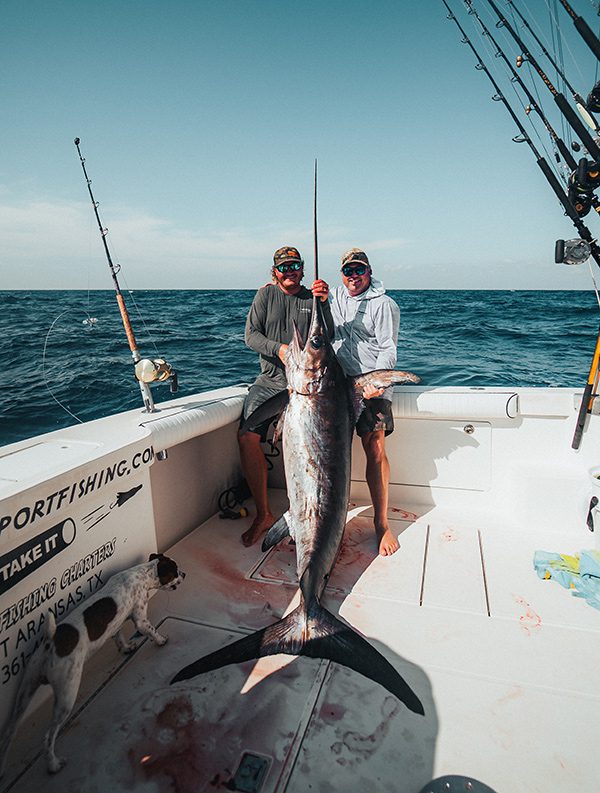 Ready to Book Your World Class Fishing Trip?
Book your Port Aransas fishing Charter online or call us at (361) 416-1067